CELEO
CELEO We are a company that invests in, develops and manages energy infrastructure assets. Our investment philosophy is based on:
Our assets are primarily focused on the transmission and generation of renewable energy under Public-Private Partnership programs.
History
CELEO CONCESIONES E INVERSIONES S.L. (CELEO) was incorporated in 2009 as a company committed to the development, investment, and management of infrastructure assets, undertaking the overall management of the Elecnor Group's concessions and investments.
Being currently involved in the construction and operation of renewable energy transmission and generation systems at an international level, CELEO owns assets in Spain, Brazil, Chile and Peru while working on a range of developments in other Latin American markets.
Growing constantly, and thanks to the support of its partners, the Elecnor and APG Groups,Celeo is positioned as a recognised company within the energy sector,currently managing a portfolio of assets with a total investment value of approximately 5.8 billion dollars.
CELEO
Celeo is a Spanish company that develops, invests in and manages energy infrastructure assets. It currently has assets inSpain, Brazil, Chile and Peru , while working on a range of developments in other Latin American markets.
Celeo's shareholding structure is divided as follows: 51% is owned by ELECNOR, S.A. and 49% by the APG Group Dutch fund, one of the most important pension investment companies in the world, operating its stake in Celeo through Pasterze Investments Holding B.V.
ELECNOR
ELECNOR Elecnor S.A. is the parent company of a group comprised of nearly 80 companies located in Spain and in more than 50 other countries. It is an organisation that has over 22,000 employees. It has two main business areas: Infrastructure, which focuses on the execution of engineering, construction and services projects; and Concessions, through which it invests in energy infrastructure assets, thereby enabling the company to develop major projects end-to-end, generating revenue from their development, implementation, operation and maintenance.
With nearly 60 years of continuous growth and a presence in more than 50 countries, Elecnor has become one of the most outstanding Spanish business groups and a benchmark in the infrastructure, renewable energy and technology sectors. Business diversification has been one of its strategic aims throughout its history, enabling its involvement in a number of industries which range from electricity, gas, industrial plants, railways, telecommunications, water, control systems, construction, the environment and installation maintenance to aerospace engineering.
APG
APG is one of the world's largest pension investors. In January 2023, the assets it managed for its pension funds and their 4.8 million participants in total represented a value of approximately 541 billion euros. Its goal is to ensure a good and affordable pension for current and future generations. To this end, APG manages its assets as responsibly as possible, with the ambition of achieving attractive and sustainable investment returns for its customers.
APG has a global presence, with offices in Amsterdam, Heerlen, Brussels, New York and Hong Kong, as well as satellite sites in Beijing and Shanghai. Thanks to this global spread, pension funds and their participants can take advantage of extensive local investment expertise. On top of that, its scale empowers APG to negotiate attractive conditions and to pass these benefits on to its funds and their participants, thus contributing to stable long-term returns and low costs.
SUBSIDIARIES
SPAIN
Celeo's Spanish subsidiaries include CELEO REDES, through which it channels its investments in Brazil and Chile, CELEO FOTOVOLTAICO, which holds its Spanish photovoltaic assets, and CELEO TERMOSOLAR, which manages the Group's Spanish solar thermal plants.
LATAM
CELEO REDES has three Latin American subsidiaries, (CELEO REDES BRASIL, CELEO REDES CHILE Y CELEO REDES PERÚ), through which it structures its investments in Brazil, Chile and Peru respectively.
CELEO also has other special-purpose entities for developing projects in these countries that provide the financial and organisational structure that supports the core business.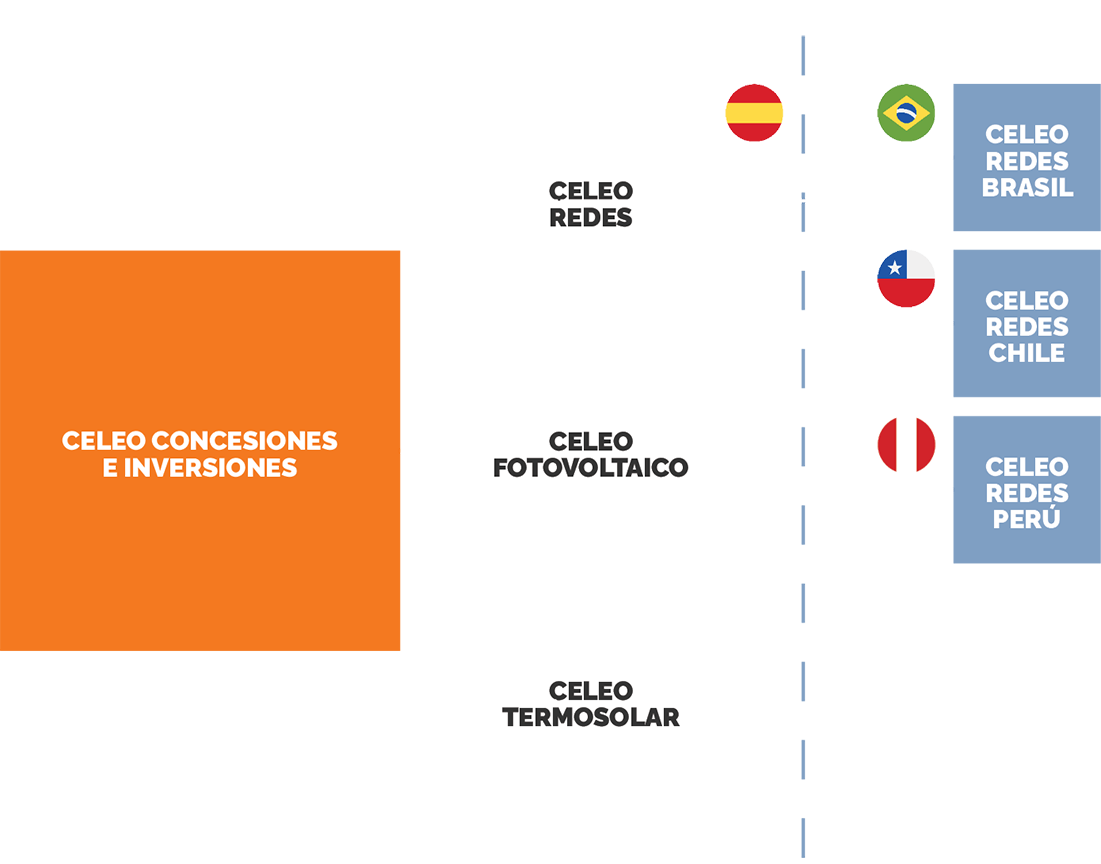 MISSION, VISION AND VALUES